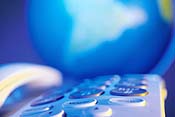 Phone Works Plus is a service-oriented interconnect communications company. We know how important communication is to your business. Therefore, we strive to provide our customers the level of service and quality of product that will help them conduct their business without having to worry about voice and data communications. This will, in return, give our company the reputation of being the most reliable and responsive communications service company in the Oklahoma City area.

Making the Right Decisions
Phone Works Plus realizes that the selection of a new communications system is an important decision, therefore, we base each project on individual need with manageability and growth potential as the main concern.

Enhance Your Business (& Save Money!)
Phone Works Plus focuses on offering the most flexible and cost effective solution that will meet customers current and future needs.

Reliable Customer Service
Phone Works Plus is a service driven company. We provide the same type of reliability in response time for the small (3 or 4 phone) business as for large companies. We tailor customer service to fit your needs.